Alice Spring Adventure Tour Holiday
Alice Springs is one of the hottest desert destination and experiences temperature as high as 100 degree fahrenheit in summer and as low in winter as 40 degree Fahrenheit. With its waterholes, stunning Mac Donnell Ranges and amazing wildlife, the alice spring is a famous tourists tourist destination and attracts thousand of visiter a year.
Not only its varied landscapes but also the colorful events mesmerize the people to celebrate life in its every form when visiting this wonderful land. Alice Spring festivals including the Beanie Festival, the Camel Cup and Todd River Race – in the hot, dry river bed – testify to the quirky nature of the city a thousand miles from the nearest large body of water.
Have a look at some of the most famous attractions in Alice Spring but don't forget to book a campervan rental in Australia, without it adventure holiday is not possible in Alice Springs.
Desert Park
The Alice Spring park offers a wonderful outing. It's a multi-award winning park and is the first of its kind in the world that showcases the plants, animals and landscapes of Australia's deserts and the northern territory.
Golf Club
The Alice Springs Golf Club is one of the best desert golf courses in the world. The manicured greens contrast explicitly with the surrounding desert and Mac Donnell Ranges. The course itself is a challenge.
Mereenie Loop
Need to purchase permit to visit some parts of Mereenie Loop. 4wd vehicles are highly recommended for Mereenie Loop tour which link Alice Springs, Glen Helen, Kings Canyon, Uluru, Kata Juta and West MacDonnell ranges.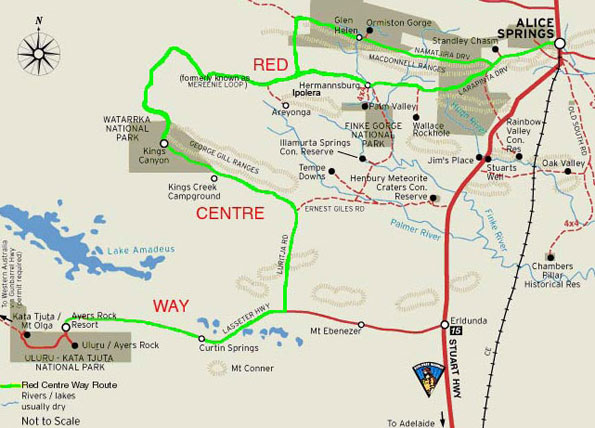 Anzac Hill
Anzac hill is the ideal spot for an overview of the town. One can see the spectacular view of the Alice Springs and the beautiful surrounding ranges from Anzac Hill. It has become a memorial to all those who have served in the defense of their country during all wars in which Australia has participated.
Ayers Rock
Magnificent sights in Australia, which is 450 km from Alice Spring. Mostly visitors book 4wd hire will traveling in Uluru region and Watarrka National Park due to the outback.
Reptile Center
The Alice Springs Reptile Centre is one of the biggest reptile showcases in the Northern Territory. A wide range of reptiles includes the huge perentie goannas, frilled neck lizards, thorny devils and many other fascinating reptiles. You can also find a range of small and large pythons and some of the world's most venomous snakes such as inland taipans, brown snakes, death adders, and mulga, otherwise known as king brown, snakes.
RSL Military Museum
Alice Spring RSL miltary museum is housed within the RSL Club. The museum is acknowledged as the most significant regional collection of war memorabilia in Australia dating from 1854 to the Timor conflict. The collection contains extensive displays from both world wars.