Drive the Scenic Southern Queensland
Thinking of traveling to Southern Queensland, Australia? a great decision indeed! Home to picturesque towns, modern cities and a stunning golden hue coastline, Southern Queensland in Australia is quite a popular tourist destination amongst locals and foreign travelers.
If you are a tourist craving for the ultimate nature's beauty and sunny beaches, get set for an epic journey criss crossing the Southern Queensland.
Exploring Southern Queensland in 10 days
The soothing climate, miles and miles of spectacular shoreline and magnificent landscapes in Southern Queensland make it a perfect destination for nature and adventure lovers. So, when are you leaving for the trip to this enchanting gem of the country?
Here is a 10-day round-trip of Southern Queensland that will bring to your eyes some of the most beautiful pieces of nature in the country. Let's drive out.
Day 1 – Get around Brisbane: This 740km long, 10-day road trip begins in Brisbane, the capital city of Queensland State, which is word-famous for its laidback vibes, glamorous skyline and lush green parks. Go and visit the bustling markets at South Bank and don't miss to take a dive into the man-made lagoon. Cruising is the best way to explore this beautiful river city of Australia.
Day 2 – Brisbane to Moreton Island: Depart from Queensland and drive on your way to the striking Moreton Island, which would take around 75 minutes in a campervan or 4WD from Brisbane city center. The island has many excursions on offer such as sand tobogganing, quad biking, marine eco cruises and snorkeling.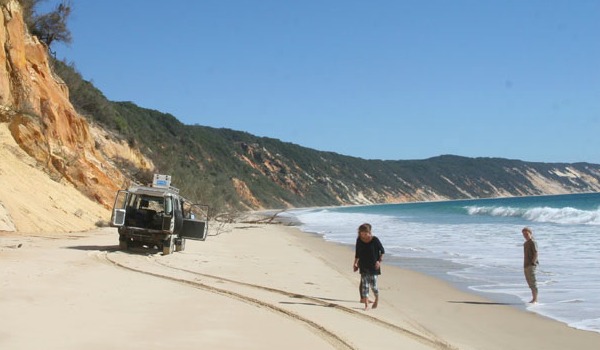 Day 3 & 4 – Moreton Island to Gold Coast: Bestowed with many gorgeous beaches, dynamic lifestyle and superlative attractions, the Gold Coast is the most scenic destination or perhaps a journey of Australia. Book your campervan hire Brisbane online before your arrival and relish in all the pleasant surprises this route has on offer.
There is certainly no dearth of things to see and do while on the Gold Coast. Visit the surfers paradise night markets held on the beachfront or take a detour to the Springbrook national park to discover the largest colony of glow worms in the country.
Day 5 & 6 – Gold Coast to Sunshine Coast: Head down to the Sunshine Coast and make a stop-over at the award-winning zoo home to local wildlife species including Koalas, dingoes, wombats and crocodiles. You may spend your night in a good caravan park under a clear sky and enjoy cooking seafood on own with your loved ones.
Day 7& 8 – Sunshine Coast to Hervey Bay: If you are not short on time, drive inland to the Sunshine Coast to visit the fairy-tale mountain villages situated on the green rolling hills. Gourmets would be delighted with a feast of fresh local produces at the Noosa Farmers. Then, drive your van north to the Hervey Bay, a quite famous whale-watching spot of the country. From late July to November is the best time to arrive at the Hervey Bay, if watching humpback whales is your main interest.
Day 9 – Fraser Island: You can spend a whole day exploring Fraser Island or board on a cruise to the Great Barrier Reef. It is the largest sand island of the world. The mainland is home to eucalyptus woodland, lush rainforests, wallum and peat swamps, mangrove forests, coastal heaths and sand dunes.
Day 10 – Hervey Bay to Brisbane: Folks, don't miss to sample the one-of-a-kind ginger beer and some top-quality rums before driving back to the capital city.
Book your campervan rental in Brisbane today and get set for this ultimate escape in southern Queensland.